Nebraska Area Codes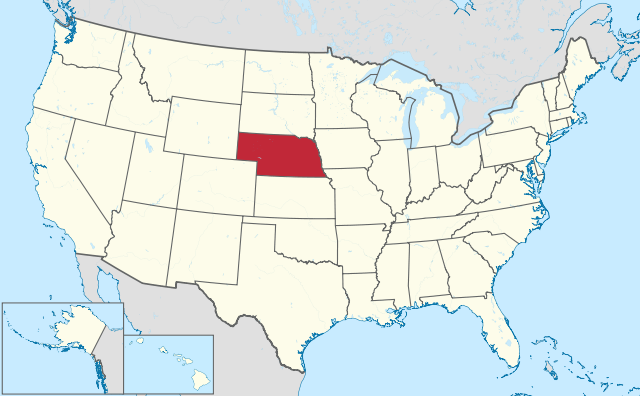 Nebraska State Information
Nickname(s):
Cornhusker State
Motto(s):
Equality Before the Law
Official language(s):
English
Demonym:
Nebraskan
Capital:
Lincoln
Largest City:
Omaha
Population:
1,842,641 (2011 est)
Time Zones:
most of state – Central: UTC-6/-5
panhandle – Mountain: UTC-7/-6
Abbreviations:
NE US-NE
Website:
www.nebraska.gov
Nebraska is a state on the Great Plains of the Midwestern United States. Its state capital is Lincoln and its largest city is Omaha, on the Missouri River. The state is crossed by many historic trails, but it was the California Gold Rush that first brought large numbers here, and it became a state in 1867. Certain landmarks still compete for the notional distinction 'Where the West Begins'.
There are wide variations between winter and summer temperatures, and violent thunderstorms and tornadoes are common. The state is characterized by treeless prairie, ideal for cattle-grazing, and it is a major producer of beef, as well as pork, maize and soybeans. Nebraska is overwhelmingly rural, as the 8th least-densely populated state of the United States. Source: Wikipedia

Nebraska Reverse Phone Lookup

If you want to investigate a cell or landline number, to find the name and address of a specific person who lives within Nebraska, then you can enter the number you want to investigate within the search box on the top right of our website (below the twitter button). Enter the Nebraska area code first, along with the remaining 7 digit number into the search box, press search & allow a few seconds for the free Nebraska location report to display. You will then have access to premium tracer reports, if required.